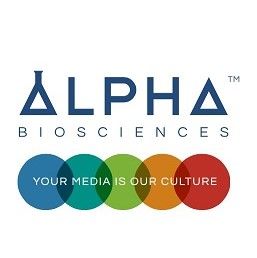 Alpha
Alpha Biosciences provides a large selection of dehydrated culture media, using only the finest ingredients globally available
Alpha Biosciences, Inc. was founded in 1999 and is a specialty manufacturer of dehydrated culture media.
They manufacture the products at their FDA-registered facility in Baltimore, Maryland - located near historic Union Mill.
While many companies offer culture media as one of a host of different products, at Alpha, culture media is all they do. Dehydrated culture media is their specialty, they provide the finest quality product made by professional and experienced technicians.
Alpha has a mission to provide dehydrated culture media using only the finest ingredients globally available. They reputation has been built by blending the highest quality raw materials into a finished product of premium standards. This ensures Alpha Biosciences' consistency in the reproduction process of culture media formulations. Alpha strictly sources raw materials from only BSE-free countries in the manufacturing of its entire product line. The company is certified according to ISO Standard 9001:2015.
The high quality, large product range, and competitive pricing makes us at Copenhagen Biotech Supply confident that we with the collaboration with Alpha Biosciences can meet your highest media expectations.
Copenhagen Biotech Supply has been distributor of Alpha Biosciences in Denmark since 2013.